Cold Dead Hands Present Their Fifth Birthday Celebration With...

Tombs (USA)- Godflesh influenced hardcore, on Relapse Records
Planks (Germany)- heavy hardcore
Black Horse (USA)- Big Black-ish noise rock
Flatlands (Lincoln)-Epic post-metal
The Process (Edinburgh/Glasgow/London)- brutal Clevo-violence
Citizens (Glasgow)-driving, melodic hardcore
The Black Chain (Glasgow)-grind!
Issues Of Morality- thrashy hardcore punk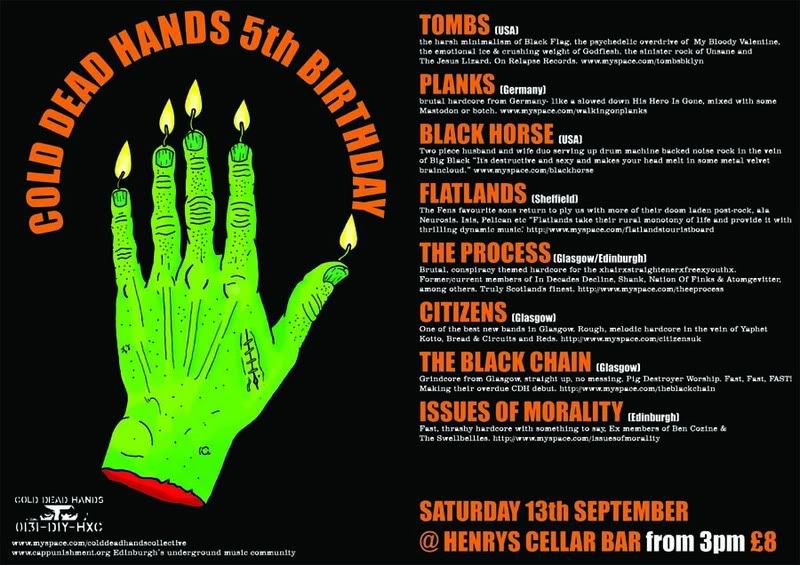 Tombs
Formed in January 2007, Tombs is a collaboration between Mike Hill (Anodyne/Versoma), bassist Dominic Seita (Speedloader) and drummer Justin Ennis (The Heuristic). It is the culmination of Hill's lifetime of work, a crushing, soulful sound, inspired by some diverse, almighty influences: the harsh minimalism of Black Flag, the psychedelic overdrive of My Bloody Valentine, the emotional ice & crushing weight of Godflesh, the sinister rock of Unsane and The Jesus Lizard. You can throw some Darkthrone & Damnation AD in there, too.
Just signed to Relapse Records.
www.myspace.com/tombsbklyn

Planks
Tombs touring buddies, brutal hardcore from Germany- like a slowed down His Hero Is Gone, mixed with some dirty Entombed guitars, the kind of racket the Germans do so well. Their demo is cracking, should have an LP out on Narshadaa by the time they get here.
www.myspace.com/walkingonplanks

Black Horse
Two piece husband and wife duo from the USA, serving up drum machine backed noise rock in the vein of Big Black etc.
"This hits my ears happily hard and sludge-filled, like a stoner rock Sabbath-touched Melvinesque tribute to Jucifer and the dark lords of sonic mess that live under our feet. This is evil that feels so good. It's got hints of the noise of Big Black and Ministry, but it also brings to mind a sort of demented Raveonettes. Sometimes, this Black Horse is like Loop doing a Boss Hogg song with a horror film soundtrack playing underneath. It's destructive and sexy and makes your head melt in some metal velvet braincloud. There are nice hooks here, catching you on the side of the head out from under the thick hammer drifts of sound, and that's the part that makes you keep coming back." THE BIG TAKEOVER
www.myspace.com/blackhorse

Flatlands
The Fens favourite sons return to ply us with more of their doom laden post-rock. There's a million bands doing the post- Neurosis/Isis/Pelican sort of thing at the moment, but Flatlands are a definite cut above.
"They are a heavier proposition of band hitting you straight away with riffage that is quiet delectable and some superb screaming from singer Mike, the immense amounts of reverb on the voice making him sound stunningly disturbed! The backing vocals provided by the bass player Simon provide a nice more melodic texture against the harsh-as-f**k screams. The structuring of each of the songs here is superb and the sound is more mature than their year existence, with crushing bass lines and pounding drums augmented by dynamic guitar lines and crushingly brilliant screams. These guys are new contenders to the crown. In a world where too many bands copy more established acts, Flatlands take their rural monotony of life and provide it with thrilling dynamic music."
-ninehertz.co.uk
www.myspace.com/flatlandstouristboard

The Process
Brutal, conspiracy themed hardcore from Edinburgh/Glasgow/London, for the xhairxstraightenerxfreexyouthx. Former/current members of In Decades Decline, Shank, Nation Of Finks & Atomgevitter, among others. Stripped down, to the point heavy hardcore, drawing influences from Ringworm, early Integrity, Damnation AD and Cursed. Monstrous new record "Rosenkreutz" has just dropped. Truly Scotland's finest.
www.myspace.com/theeprocess

Citizens
One of our favourite new bands, we've brought them back for their third gig in 4 months- rough, melodic hardcore in the vein of Yaphet Kotto, Bread & Circuits, Reds etc.
www.myspace.com/citizensuk

The Black Chain
Grindcore from Glasgow, straight up, no messing FAST! Making their overdue CDH debut.
www.myspace.com/theblackchain

Issues Of Morality
Fast, thrashy hardcore from round these parts, which something to say, bit of a rarity these days. Ex Ben Cozine & The Swellbellies.
www.myspace.com/issuesofmorality

Saturday 13th September
Henry's Cellar Bar
Morrison Street
Edinburgh
doors 3pm, £8

First band 3.30-ish, all done by 10pm.
There will be vegan cake and maybe some suprises.